ABOUT
J.L.A. is a website for those people who are obsessed with Caribbean music and the artwork of the labels on the vinyl reproductions of that music. It doesn't matter if those labels are on recordings of Jamaican music released in the U.S.A., or indeed Trini Calypso released in the U.K. It's all the same to us!
We don't intend the site to be an exhaustive discography of single releases, there are plenty of those to be bought from the bookseller or found for free on the Net (Check our Links Section). Instead we both thought it was about time for an online version of a coffee table book; glossy and thin on information but thick on indulgence.

In short pure eye candy, nothing more. There are enough weighty tomes available to the serious collector, so go make yourself a long cool cocktail and treat yourself to some pure pleasure.

Of course we haven't got every label ever printed and we're certain that we won't have many of those you might expect to see, however, hopefully we may have some you didn't expect and the website will grow with time, with over 2040 as of March 25, 2010 we feel you'll find something you'll like!

The site was conceived one murderously dark lightening be-licked night, by Mike Murphy & Ian Causer, friends who met through a love of Caribbean music in the Summer of 2004. (Ian is on the left & Mike is on the right of the picture below.) This site is dedicated to all those who know the bottomless depths to which a musical interest can reach.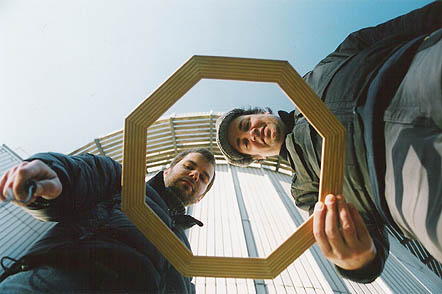 MIKE
I grew up in Nashville Tennessee, son of a very musical Father and very artistic Mother, we moved to the UK as a 10 year old in 1976. I grew up in southern England, always obsessively listening to music, Country Blues, Jimi Hendrix, Buddy Holly, and finally at about 14-15 years of age my first taste of Jamaican music. I fell in love with U-Roy's 'Dread Inna Babylon' L.p. Suddenly all Reggae didn't sound the same!

Around 1995 I bought my first Reggae record for in ages, and that was it, a long slippery slope into a desperate auto-audio compulsive disorder. It wasn't long and I was buying my first original Jamaican singles, refusing to eat and so on, less I waste my paltry record buying funds on essentials like rent or clothing!
I met Ian about 6 years ago when I needed a floor to sleep on in London so I could attend a Gig at the now defunct 'Ocean' venue in Hackney, East London.

I first realized how truly obsessed with recordings of Jamaican music I was when I received an album in the post and found myself sniffing it, enjoying the musty smell of a long hidden gem, an unknown attic's 'strange fruit'. Here is that very record.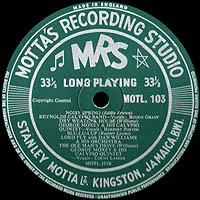 I have also, in my short life as amateur musical sleuth, constructed a site dedicated to under-valued Jamaican vocalist Johnny Clarke http://johnnyclarke.com/ . I have contributed to magazines with articles about music, to Roots Knotty Roots the foremost Jamaican singles discography & recently to the Rare Record Collector's Guide here in the U.K. Check out the LINKS section for more of my favorite places in which to indulge musical & artistic passions.
In the last few years I've been developing my radio show Bigmikeydread Reggae Radio, click this link to catch it - http://bigmikeydread.podomatic.com/ it's one of the most popular Jamaican music shows on the internet.
I also have a Musical Blog here - http://bigmikeydread.wordpress.com/ which serves my need to talk about Jamaican and many other genres of music, label art, Lp's, and sound and recording technology.
IAN
As a relative newcomer to the joys of reggae and all it's various roots and branches I
regularly browse the 2nd hand shops of London, buying pieces of 7" vinyl that are often
older than myself aswell as trying to keep up to date with the best of the latest releases.
Before I've even heard the tune, I'll pull a record out the rack as much for it's label as for
recognising the artist or producer, although experience has told me that a great label can
be no signifier of a great tune and vice versa but when I get both then I start to get that 'tingles
up the spine' moment with my find.
My record collection also covers many other genres and areas of the world but the
reggae section outnumbers all the rest put together. I think it's something to do with the
irresistable bass-lines, which also regularly occur in jazz, soul, house, afro-funk, cuban,
hip-hop etc etc but a reggae bass-line has a feel that is seldom replicated anywhere else.
Add to that the impassioned lyrics of righteousness and love sung by countless great singers,
harmony groups and DJ's, and finally horn-lines that hit the high notes to counter-act the low of
the bass and I've got a passion that will live forever.
Throughout the 90's my love of reggae slowly grew, starting with the usual suspects of
Marley and Tosh. I then bought the 4xCD Steve Barrow compiled Story Of Jamaican Music,
which expanded my horizons until I got heavily into the 70's dub sound of King Tubby and
Lee Perry, who I would tell anyone willing to listen, were the godfathers of modern day dance
music. In 1996 I found a pile of old reggae 7"'s and 12"'s in a friends flat, which were the
remnants of his dad's collection, and were lying there unwanted and unloved so I decided it
was my duty to avail myself of them and for the first time fell in love with the original vinyl sounds
of Jamaican music. Since then I've spent far more than is healthy on battered old bits of vinyl from
all eras of Jamaican music which light up my living room when I put the needle on the record and
wait for the drum roll to introduce itself through the crackles, and you can hear some of these tunes for yourself at my online podcast page http://houseofreggae.podOmatic.com and every Friday at http://www.reggaeworldmusic.com between 7pm-9pm (UK time)
It's through this shared love of reggae music and crackly old records that I first met Mike a
couple of years ago, and we have frequented concerts, clubs and record shops since then,
discussed the more intimate details of our latest purchases and even shared a couple of on-line
DJ broadcasts which usually end in fits of laughter. And it's to Mike whom the accolades of the
design of this site must go.
& F I N A L L Y
April 7, 2010 There are currently 373 pages on this site, over 2000 label scans, and 2018 details. We're still working on it too! We hope you enjoy it. Let us know what you think. e-mail J.L.A.